doors
We design and fabricate both modern and historic doors one at a time to your specifications. Our custom doors start with carefully selected hardwoods oriented for good color and grain matching as well as stability throughout seasonal changes. A door has to stand up to the elements on one side while being heated or air conditioned on the other. By taking the time to select the right lumber and proper milling techniques, our solid wood doors perform. All doors are constructed with a true mortise and tenon joint for strength and durability. Jambs and thresholds fitted with weather strip keep the elements out and your heat in. Glass is always tempered or laminated for safety and insulated or tinted glass is available through our local glass manufacturer. Doors can be manufactured as a pre-hung unit with jambs and stops matching the door material. Contact us to discuss your custom door or entryway project.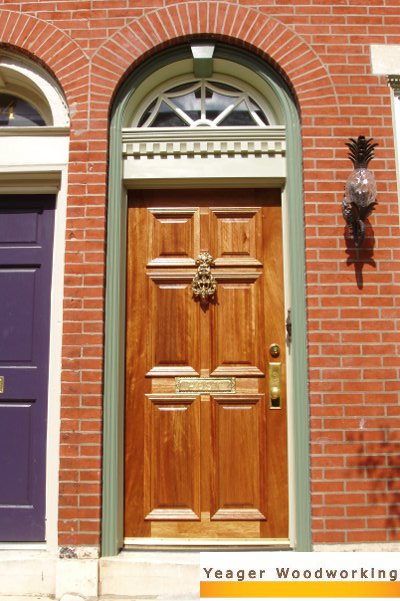 This entry while not a truly historic replica was inspired by the doors on many Old City Philadelphia townhomes. The door is a natural finish solid Sapelle Mahogany adorned with wonderful solid brass hardware that the homeowner provided. The spider web transom window has an insulated glass panel and is constructed from Azek cellular PVC. While the door itself is hung on solid wood door jamb the exterior jamb is fully constructed from green and rot free materials including Azek and polyurethane moldings. Q-lon weather strip and a solid brass door bottom sweep keep out the drafts.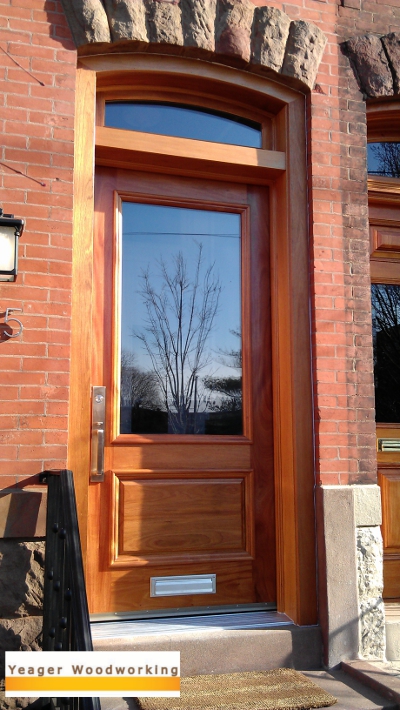 This solid 1 ¾" thick solid Honduras mahogany entry came complete with a matching jamb and interior and exterior trim. The natural color marine top coat will allow this premium hardwood to deepen in color over time. The sophisticated style fit right into its art museum Philadelphia neighborhood. Weather strip, threshold with door bottom seal and double insulated tempered glass panels will keep the drafts out. We install the doors we make or provide them for your builder to install.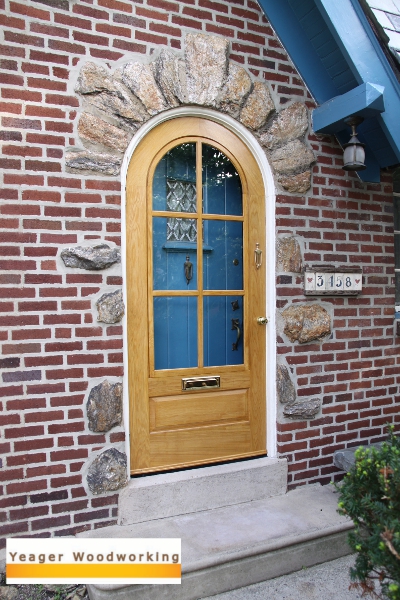 Round Top Storm Door made from solid white oak, tempered glass and brass. It has interchangeable glass and screened panels. Contact us for your custom door requests.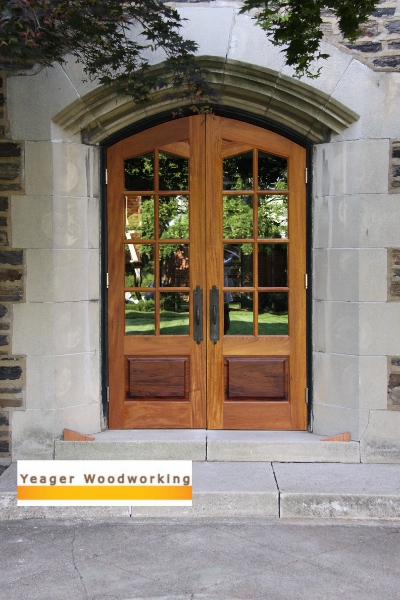 Mahogany Entry Doors Dimensions: 2 1/4 inches thick, 8 feet high, each door 31 inches wide. Materials: Solid Mahogany, Stainless Steel Spring Hinges and Flush Bolts, Cast Bronze Handles, ¼ inch Thick Tempered Glass, Natural Finish with Spar Varnish and Epoxy. We fabricated a grand pair of mahogany doors to replace a pair of painted ones that were unrepairable. They were fitted and installed to the existing opening on site. There are a total of 5 sets of these doors on the building courtyard and we are working on all of them as the renovations on the building progress. Contact us for your custom door requests.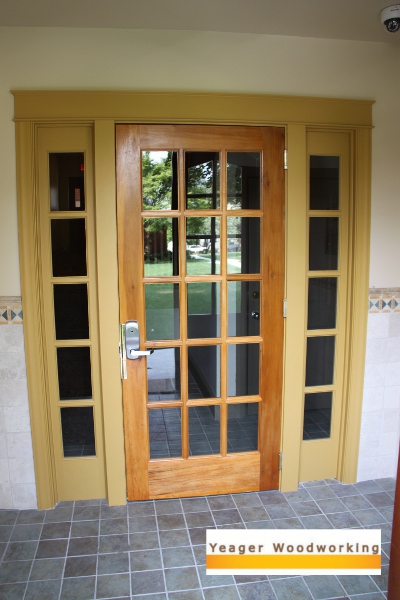 Foyer Entry Doors Dimensions: 1 ¾ inches thick, 7 feet 4 inches high, 5 feet 8 inches wide. Materials: Poplar, Steel Spring Hinges, Mechanical Lockset, ¼ inch thick Tempered Glass, Paint. This entry is to a 200 year old condo complex. The style and moldings were chosen to reflect the original designs. Door lockset is attached to an intercom system to allow remote entry to guests.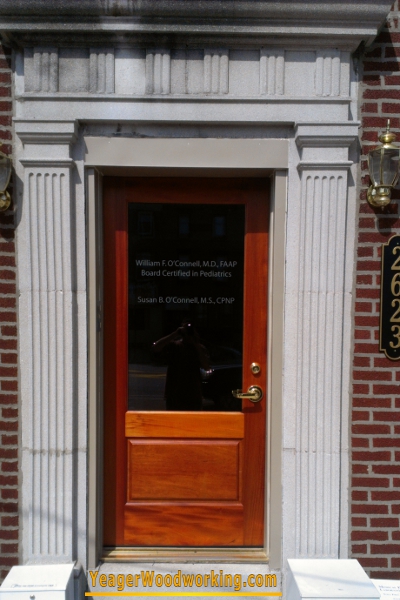 Custom entry door 1 ¾ inches thick solid mahogany with true mortise and tenon joints. New door bottom seal and Q-lon weather strip will keep it draft free. Finished with a natural clear marine spar varnish, the natural color will improve with age.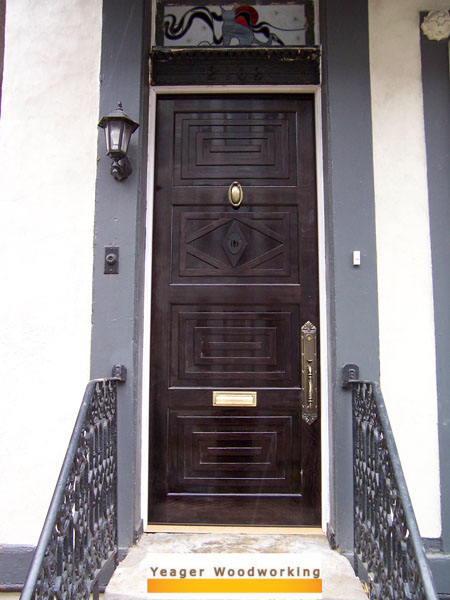 White Oak Entry Door Dimensions: 1-3/4 in. thick by 34 in. wide by 92 in. high. Materials: Quarter Sawn White Oak, Brass Hardware and a Nine Layer Stain and Spar Varnish Finish. We replicated a deteriorating existing door in durable quarter sawn white oak. The door was pre-hung in a new jamb with existing transom light. A new threshold and weather strip prepared the door for southern exposure.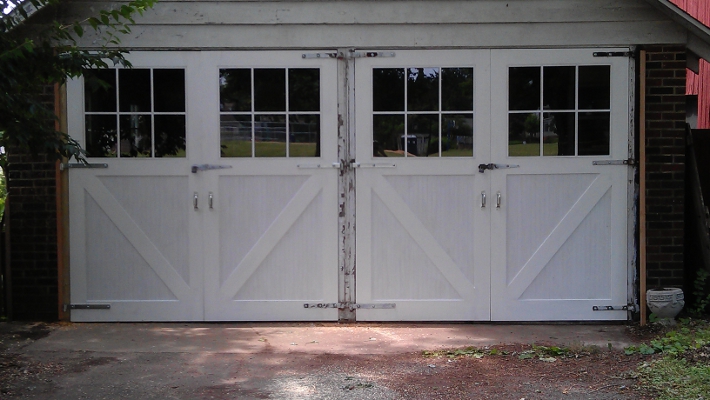 New doors made to match the original garage doors with strap and pintle type hinges. Each door is approximately 4 feet wide and 8 feet tall. The painter is coming soon to give the whole front of this old garage a fresh coat.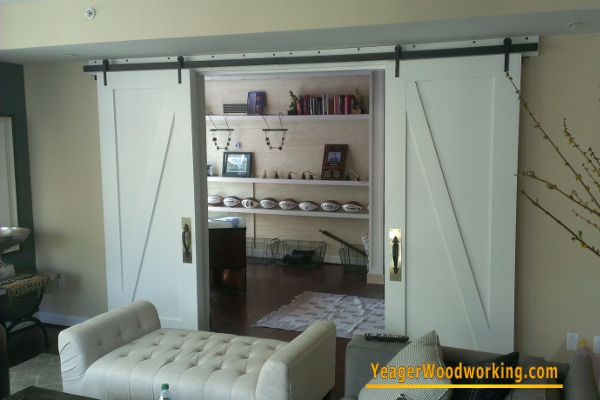 These existing pocket doors were moved to the outside of the wall, given a few new details and hung on exposed track. Design by Intimate Living Interiors.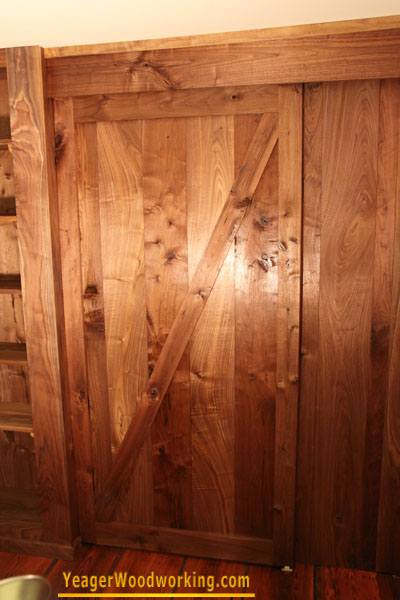 This door had to be built on the third floor of the home because there was not enough room to get it up the narrow old spiral staircase. It is a nice example of a rustic barn door that slides on a top mounted track concealed behind a plank. The entire wall is covered in the same walnut with a small bookcase at one end. This wood was sawn locally, kiln dried and handpicked to include as much knots and defects as possible to give the installation rustic character.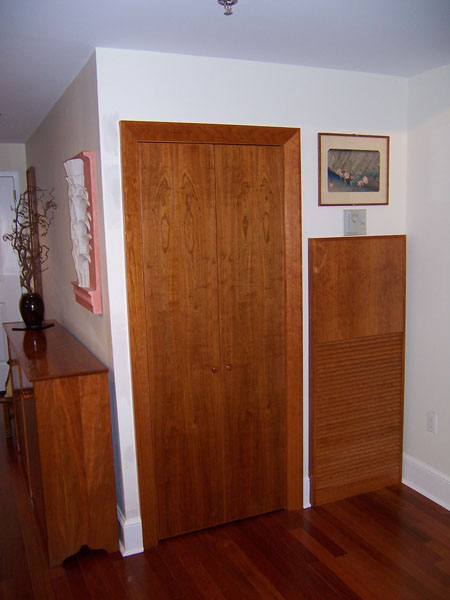 Cherry Door and Vent Cover Dimensions: 8 ft. high by 7 ft wide wall. Materials: Cherry and Cherry Veneer, Oil and Shellac Finish. A custom cherry door was installed to hide a stacked washer and dryer. The louvered vent covers a HVAC air intake.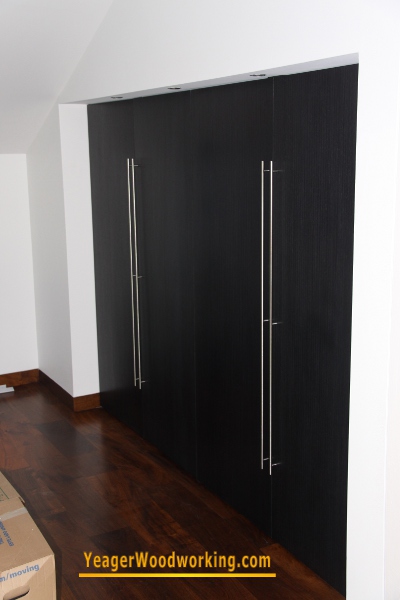 The doors were veneered with a green veneer from Brookside veneer called dark ebony. They have only a clear finish on them; the color is dyed in the veneer. Design by Moto Design Shop.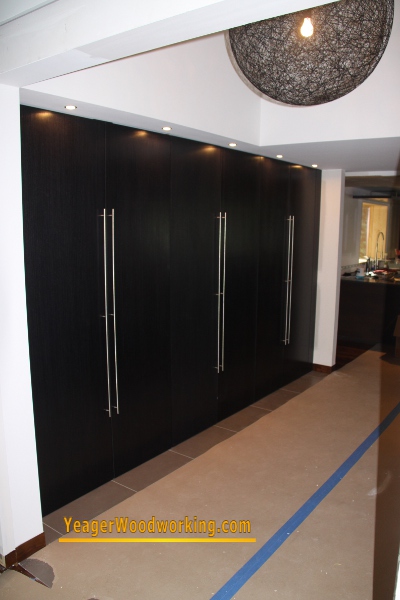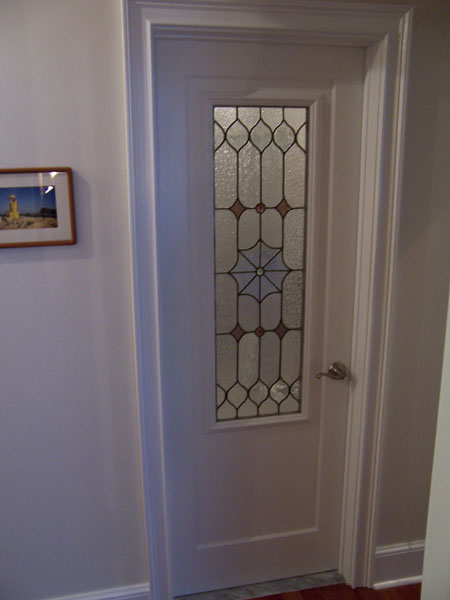 Stained Glass Door Dimensions: 1-3/8 in. thick by 28 in. wide by 80 in. high. Materials: Pine, MDF and Stained Glass Window, Painted. Stock door was modified to hold an antique window.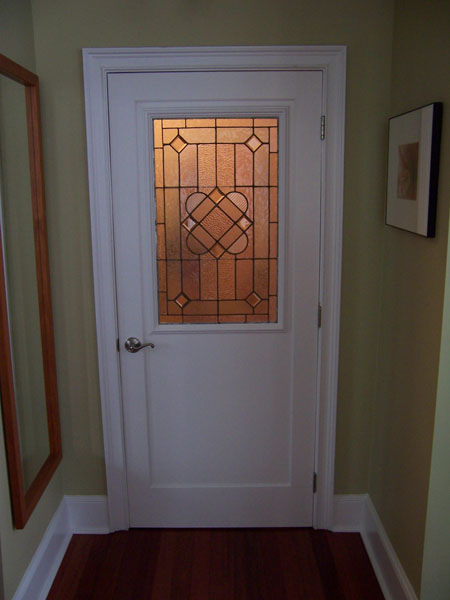 Stained Glass Door Dimensions: 1-3/8 in. thick by 34 in. wide by 80 in. high. Materials: Pine, MDF and Stained Glass Window, Painted. Stock door was modified to hold an antique window.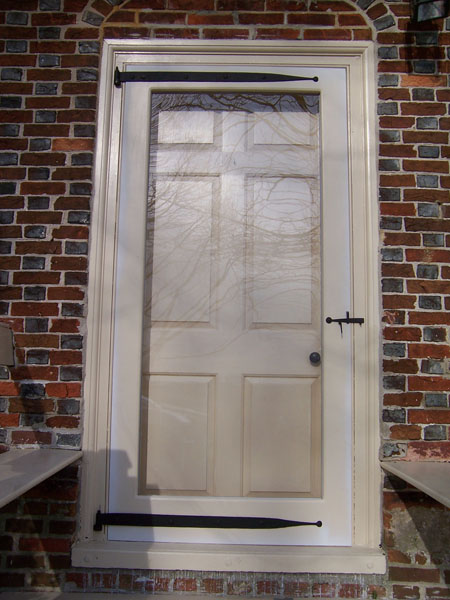 Storm Door with Wrought Iron Strap Hinges Dimensions 1-3/8 in. thick by 34 in. wide by 80 in. high. Materials: Pine, Plexiglas and Wrought Iron, Painted. Specificly fashoned to fit onto an historic farmhouse. This door was tricky to install as the blacksmith forged hinges were all different.