Over the last few years I have been asked to make these doors for to replace the originals.  As renovations continue on the old stone and brick residential complex i install the doors.  They are replicas of the originals except they are made from mahogany, the originals were fir and rotting away.  They are 2 1/4 inches thick with 1/4 inch tempered glass panes.  Solid wood in construction with mortise and tenon joints.  They weigh just under 200 pounds apiece, so a proper installation is important for long term functionality.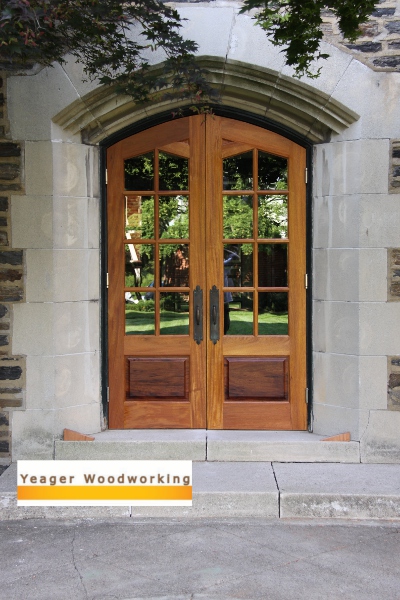 I install the doors with commercial stainless steel spring hinges.  The original bronze handles get refinished by the management of the building,  I finish the doors with marine varnish and epoxy.  Sunlight naturally darkens the mahogany over time.  After 6 months the doors color gets richer deep red in color and more balanced.  it is difficult to get the doors one uniform color without staining which may hide the natural beauty of the wood for some.
Yeager Woodworking makes all types of custom doors.  Visit www.yeagerwoodworking.com for more information and contact.